How much is your company spending on document storage? My bet is, too much. In this increasingly digital age, it just makes sense to go digital with your files and documents to lower costs and increase efficiency.
In the past we've spoken about the advantages companies can gain from document scanning but here we would like to reinforce what all these benefits can mean for the future of your company.
Benefits of Document Scanning and Digital Document Management
Let's remind ourselves of the benefits document scanning and electronic document management can bring;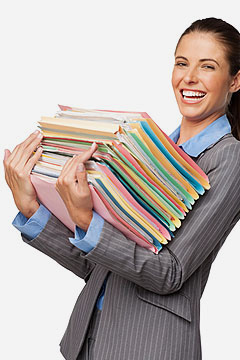 Cost savings
Time savings
Space savings
Improved efficiency
Improved document security
Increased accessibility
Improved overall organisation
Decreased reliance on paper
Increased office morale
Future-proof your business
Increase your green credentials
Show better health and safety awareness
Increase workflow efficiency
Reduces stress
I could go on forever and, admittedly, we usually do but how does this relate to your company? As you can see, there are no negative effects on your business when document scanning and digital document management are executed professionally. The main effect on your business will be potentially higher profits brought about as a result of lower outgoing costs and improved efficiency. This can only be a good thing when companies and organisations are struggling to stay afloat due to higher costs in other areas. Every company is different so it would be futile to try and guess which benefits you would reap and to what extent.
So, here's the challenge. Take a look at the list of benefits above. Then make a list of the areas in which your company could improve. It is at this point I can almost guarantee there will be a number of areas that match on both lists. This is when you know it's time to stop being an adequate, or even failing, business and start being a SMART business.
What is a SMART business?
By hiring scanning services and adopting an electronic management system you can begin the path to becoming a SMART business.

A SMART business Scans, Manages, Accesses, Reaps and Tells.
Scan
The first step is getting your documents scanned and fully indexed.
Manage
Then you need to manage your new digital documents efficiently by adopting a digital document management system.
Access
You will then be able to access your digital documents whenever and wherever you need to.
Reap
With this new-found accessibility you can then reap the benefits mentioned above.
Tell
While you're reaping these benefits, why not tell your clients all about it, especially since some can mean a better experience for your clients as well as the company as whole.
How Can Pearl Scan Help
Here at Pearl Scan, we offer bespoke document scanning services including invoice scanning, legal scanning, HR document management and bulk document scanning. They provide all of the benefits mentioned in the article and have been used by a number of satisfied clients.
If you're are interested in taking steps to become a SMART business or if you would like some more information on the document scanning services and document management solutions we offer here at Pearl Scan, get in touch today. We can also provide you with a free, no obligation quote for your project if you complete our online form.