AP Automation | Invoice Scanning Services in London
Purchase invoices and accounts files are some of the most extensively used and processed documents today. The way they are handled can have a significant impact on day-to-day accounts and finance operations in your office environment.
We offer cost-effective purchase invoice scanning services to streamline the way that accounts departments operate.
Some of the typical accounts payable invoice documents that we scan include: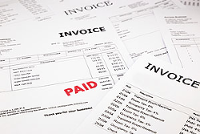 Purchase invoices (Supplier's invoices)
Supplier's contracts
Purchase orders
Goods received notes / PODs
Expenses / Receipts
AP automation process
Receiving invoices
We can set up a dedicated PO Box to receive your paper invoices, while assigning an email address for you to receive electronic versions.
Scanning
Our experienced scanning team will scan your paper invoices into electronic formats and check the ones received electronically for image validation.
Data extraction
Depending on individual requirements, we will extract the data from each invoice and present it in a readable format, such as CSV, XML, Excel etc.
Integration
Our AP automation service is able to sync with backed ERP system and exchange the information, to reduce retyping of the data.
GL coding
GL coding can be automated via our integrated services, however if it is not feasible this can instead be coded manually.
Exceptions handling
We will check the extracted data from invoices to ensure there are not duplicates, unmatched data or any other rules required by our client.
Supplier portal
We can reduce the time for supplier related queries by automating the exceptions relating the suppliers, providing full visibility to their invoices.
Three way matching
We can automate the three way matching by cross checking the invoice data to the PO & GRN system and if all matched, the transaction can be automatically sent for payment approval.
Reporting
Accounts payable department will receive real-time reports of a clear view of each process of the workflow, improving audit, query and quality control
Invoice scanning solutions
Our purchase invoice scanning solution is created exclusively with the need of AP (Accounts Payable) departments in mind. It is designed to reduce time spent searching for paper invoices and to help reduce space that is taken up by filing cabinets and boxes in the office.
We scan and index suppliers purchase invoices in a way that is familiar to the accounts department, while making them easier to find and use.
Indexing options for efficient invoice processing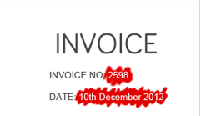 Indexing of invoices can be carried out as below:
Folder level - Information captured from the folder cover or spine etc.
Invoice level - Information captured from each invoice, such as reference number, supplier invoice number, invoice date etc.
OCR invoice scanning
OCR (Optical Character Recognition) can be applied to your scanned invoices which is the process we use to make documents fully text-searchable. OCR is useful if you want to search within the documents, going beyond the standard indexing parameters.
Free invoice management system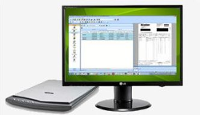 Our invoice cloud-based storage and retrieval software Halogen has a user-friendly interface which makes search & retrieval easy and instant. Halogen is packed with many useful features including free text search using OCR Search, sharing, print, export, or email creation all from one screen.
The benefits of invoice scanning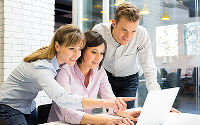 An overall productivity boosts.
Finding invoices becomes easier and faster than ever.
Time-consuming tasks take seconds.
Reduces physical storage when using digital files.
Costs cut on storage.
Digital mailroom solutions
We also offer a digital mailroom solutions service where invoices are either collected or your supplier's can send these to a dedicated PO Box set up for you. We open, sort, scan and capture the required data which is then sent back to you within the 24 hours and disposing of the originals after an approved period.
We also offer other cost cutting scanning solutions and scan a wide variety of documents including HR files, PODs (Proof of Delivery), medical files, legal files, large format documents, microfiche and microfilm, SharePoint.
Contact us today
Contact us today with your invoice scanning enquiries by phoning 0207 183 1885, emailing This email address is being protected from spambots. You need JavaScript enabled to view it. or using our online Contact Us Form.